Thrift shop ECOLOG
WE BUY & SELL USED ITEMS.

CLOTHES
-For kids & babies
-Business Suits
-Dress
-Outdoor wear
-Sports wear
-Kimono(Japanese
Traditional Dresses)
at Chirimenya only in
Ainoura shop
and more
ACCESSORIES
-Shoes
-Belts
-Purses
-Bags
-Ties
-Glasses
-Scarves
-Hats
-Jewelry
and more
FURNITURE
-For office (cabinet, chairs)
-For house (Sofa, Bed,
Couch, Table, Lamps,
Dressers & Cabinet)
-For baby (Crib, stroller)
and more
EVERYDAY PRODUCTS
-Cook wear
-Glassware
-Silverware
-Bathing products
-Bedding
and more
MEDIA
(Manufactured in 2000
and after)
-Video games
-DVD Players & DVDs
-Digital camera
-TV
-Digital Audio Players
-Computers & IT Services
and more
HOUSEHOLD ELECTRIC APPLIANCES
(Manufactured in 2000
and after)
-Refrigerators
-Washing Machines &
Dryers
-Heating & Air conditioner
-Microwave
-Telephone
-Kitchen Electricals
-Rice Cooker
and more
VEHICLE ACCESSORIES
-GPS,
-Car compo
-Car TV
-Radar detector
-Speaker
-Helmet.
-Car seat
and more
MISCELLANEOUS
-Books
-Sporting goods
(i.e. baseball gloves,
basketballs,
golf clubs, etc.)
-Fishing goods
-Toys
-Workout equipment
-Music instruments
-Gifts
and more
We have a retail store in Ainoura-cho,Sasebo
We sell high quality merchandise and we also buy your gently used items at the great price.
All of our merchandise are to be checked by hand carefully for quality before they are put onto the floor.
Come join us. You will find your shopping experience at our shops like a "treasure hunt" . You can shop for your entire house and family!!
ECOLOG Ainoura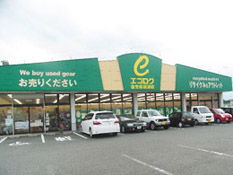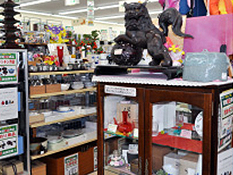 CHIRIMEN-YA Corner carries Kimono
(Japanese traditional dresses and accessories)
Our stores open 10:00 to 19:00 everyday.
Delivery:
Our staff is available to deliver the items that you purchase to your house for 1050yen within Sasebo City and Saza-cho. For other cities in Nagasaki, please ask staff for their rates.
Truck Rental:
If you purchase at least 5,000yen worth of our merchandise, you can rent our pickup truck (Manual Transmission) for free within 90min. Over 90min., you will be charged.
We can also go to your house to purchase your goodies (clothes not included).
ID is required to sell & buy with us.
Maps